A dog owner has taken to the internet to warn others of the dangers of keeping a collar on their dog while they're at home after her pups almost got injured because of it.
In a video shared on TikTok last Saturday under the username Sunbvi, she explained that, while her pets were playing in the yard, her Aussiedoodle's mouth got stuck on her puppy's collar, and the two started twisting and turning while trying to escape.
Luckily for the pets, 9-month-old male Gibson and 4-month-old female Fender, their owner was still at home when this happened, even though she was meant to leave the house two minutes prior, and she managed to separate them and avoid trouble.
The TikToker told Newsweek: "Both dogs are fine, thank goodness. I was supposed to be leaving for a dinner at the time and had a feeling I was going to be intentionally late. Very strange for me. And thank goodness, I was!"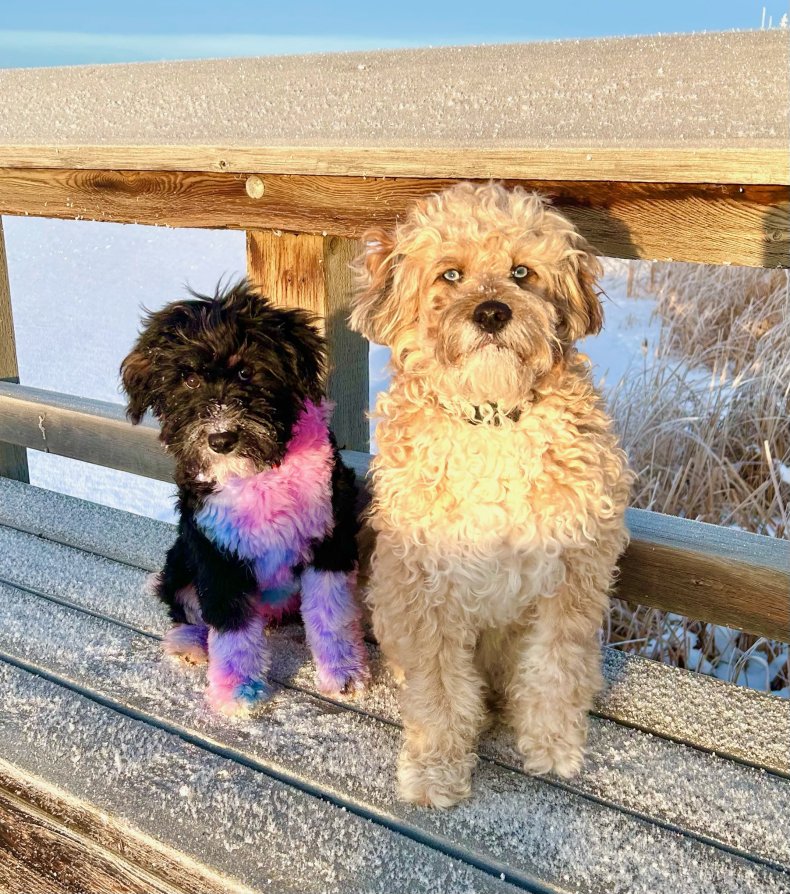 The viral post came with the caption: "CAUTION VIDEO!!! If you own two or more dogs PLEASE WATCH!"
In the clip, the dog owner can be heard saying: "I thought that a coyote was trying to get them or something, and I came running and screaming outside and she bit me, she was so scared. I had to physically turn her whole body to get them free.
"Obviously, there will never be collars on my dogs while they're home ever again and I just wanted to post this to hopefully save somebody from that kind of trauma because I know that it could have been way worse if I wasn't home so yeah keep those furbabies safe."
Answering a user in the comments, who pointed out how hurtful it must be for a dog owner to hear their pet crying that way, the poster added: "This will haunt me forever."
Dr. Heidi Heller, the managing veterinarian at Small Door Veterinary's 14th Street location in Washington, D.C. told Newsweek that while this doesn't happen every day and is a fairly uncommon occurrence, most veterinarians are aware of an instance when a dog's jaw has become entrapped in the collar of another while playing.
"When this happens, it can lead to serious injury (e.g. jaw fractures, tongue laceration) and in very rare circumstances, even death by strangulation of the collar wearer," Heller said. "Similarly, a single dog may suffer injury if their collar is snagged on something and they jerk away in an attempt to free themselves."
While collars are helpful for identification and for handling dogs in general, it is best to remove collars during play, when dogs are confined in their crates, or any time they're indoors and unsupervised to prevent injury, according to Heller.
"Breakaway collars are available which are designed to do just that—break away if they become stuck on something. These can be great for hanging tags but should not be relied upon as a means of restraint. Body harnesses are preferable and provide excellent restraint while walking," she said.
"In the event of an emergency, it is wise to be prepared to cut a collar with scissors or a knife. For this reason, metal or chain collars are never recommended!" she added.
The video quickly attracted animal lovers from all over the platform, receiving over 1.3 million views and 149,600 likes so far.
TikTok user derpmermaid commented: "the man racing to the rescue fills my heart. It's nice to see good people."
Holly Berry wrote: "The cries of an animal in pain [are] so heartbreaking. Glad your fur babies are okay."
Chiefopone said: "What a hero neighbor- he came running – not knowing what lay ahead."
And meg notes commented: "That sound is my worst nightmare. I'm so glad you were there and they are both ok and hope your hand heals quickly."
Newsweek reached out to Sunbvi for comment. We could not verify the details of the case.
Do you have funny and adorable videos or pictures of your pet you want to share? Send them to life@newsweek.com with some details about your best friend and they could appear in our Pet of the Week lineup.