With the Days of Future Past now in the past for Marvel Snap (Free), what's next for the game? There are no new movies or TV shows out this month, so that means the team could pull from just about anywhere. Another legendary comic story? A movie from the past? Or maybe we just go full floof with an animal-themed season? Yes, it's the last one. The floof. Animals Assemble! Let's see what's waiting for us in this one.
First up is the Season Pass. As usual, you can pay some real money to get instant access to the newest card and various other goodies like card variants. That newest card is Hit Monkey, a 2-Cost 0-Power fellow with an On Reveal ability that sees Hit Monkey gain +2 Power for each other card you've played this turn. Oh boy, I can almost hear the Mr. Negative deck players squeeing with joy already. The Season Pass will also get you some new avatars, card backs, and a few neat variants as you play through, along with a bunch of extra resources.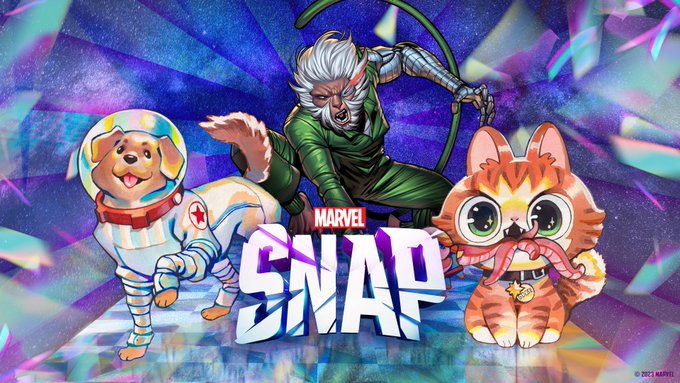 Okay, beyond Hit Monkey there are going to be some other cards joining each week. Series 5, the whole lot. First we have Jeff, a 2-Cost 3-Power card. He's a shark. Right on. He can be moved once, and nothing can stop him from moving or playing to any location. A real Professor X buster, among other opportunities. Then there's the unique Snowguard. She's a 1-Cost 2-Power card that changes every turn she's in your hand. Her Hawk form has the On Reveal ability to ignore all Location abilities in the next turn, and her Bear form has an On  Reveal ability to trigger the effect of the location it's played at. Hmm.
Finally, Stegron. He's a 4-Cost 5-Power card with the On Reveal ability to move an enemy card from here to another location. Some real potential to mess with your enemy's strategies in the late game here. As usual, these cards will be added weekly, starting with Snowguard next week, then Jeff, then Stegron. The feature card from Days of Future Past, Nimrod, joins the rotation as part of Series 5 today as of today.
There are only two new locations this time around. The Pet Mansion, when revealed, forces all cards to be played there on that turn. Seems like a slight twist on Avengers Mansion, but it could be interesting. The Sandbar, on the other hand, has a unique twist. You can't play cards with abilities on it, which might be good news for those running Patriot decks.
You can also look forward to several new variants, including some special ones that will only be available via exclusive bundles. There's a 7,000 Gold bundle that offers up a Throg, Frog of Thunder variant for Thor along with a ton of other goodies. Then there's a straight-up $4.99 bundle called Aww-vengers with variants and avatars of Captain Americat, Mooster Fantastic, and Ant-Ant, plus some boosters for each of them. I've been wondering if they would start offering some reasonably-priced purchases, and here we are. Where's Spider-Ham, you cowards?! Oh, and there's a Cat Bundle/Dog Bundle choice you can make with 700 Gold to show where your loyalties are.
All in all, Animals Assemble seems like it's going to be a nice, light-hearted season. Maybe we all needed that after the ups and downs of Days of Future Past. We'll have our April deck building guide ready for you soon, so look forward to seeing how the many changes of the last month have affected the game.