A severe winter storm affected millions of Americans earlier this week, and a dog that was abandoned in Utah also felt the effects.
The massive winter storm impacted roughly a third of the U.S., bringing snow, ice and cold temperatures to many. The storm hit Utah on Wednesday, when snow fell at a rate of 1 inch per hour, and strong winds created snow drifts as high as 6 feet.
Salt Lake City saw more than 14 inches of snowfall from the storm, according to a tweet from the National Weather Service in the city, and unfortunately, an abandoned dog was exposed to the brunt of the storm.
Security footage at South Salt Lake Animal Shelter captured an unknown person leaving their dog at the animal shelter early Wednesday morning. The video shows the person tying the dog, described as a Malinois mix, to a tree before leaving.
The dog was found a few hours later standing in at least 6 inches of snow. KUTV reported that when employees arrived at the shelter to shovel snow, they heard the dog barking and attended to it.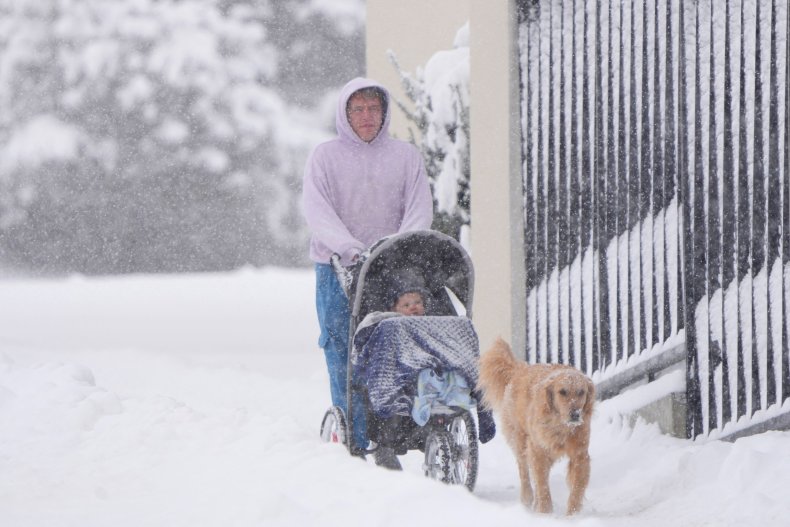 The dog wasn't injured, but animal services staff described him as being cold, wet and scared, according to the KUTV report.
South Salt Lake Animal Services supervisor Jenica Laws told Newsweek that the dog was being held safely at the shelter.
"He is on the nervous side and [we] are still trying to gain his trust," she told Newsweek.
The shelter will hold the dog for five days before determining if he is a good candidate for adoption.
South Salt Lake Animal Services urged pet owners not to leave their pets outside without shelter. The facility shared a picture of the Malinois with the urgent message on Facebook on Wednesday.
"DO NOT JUST LEAVE YOUR ANIMALS AT THE FRONT OF A SHELTER," the post said. "This dog was left tied up to one of our trees this morning in the freezing cold. We ask that you call us and we will see what we can do to help you and your pet."
The post went on to advise pet owners that leaving an animal tied up without shelter or water is a crime in Utah.
The post followed another urgent post by the shelter asking for help, writing that the shelter was beyond capacity.
"We are now having to resort to using temporary wire cages to house dogs," that post said, also referencing the dog that was tied to a tree.
"Not only do we have no space for them, but it is neglectful, abusive and unacceptable to abandon an animal in these circumstances," the shelter wrote.